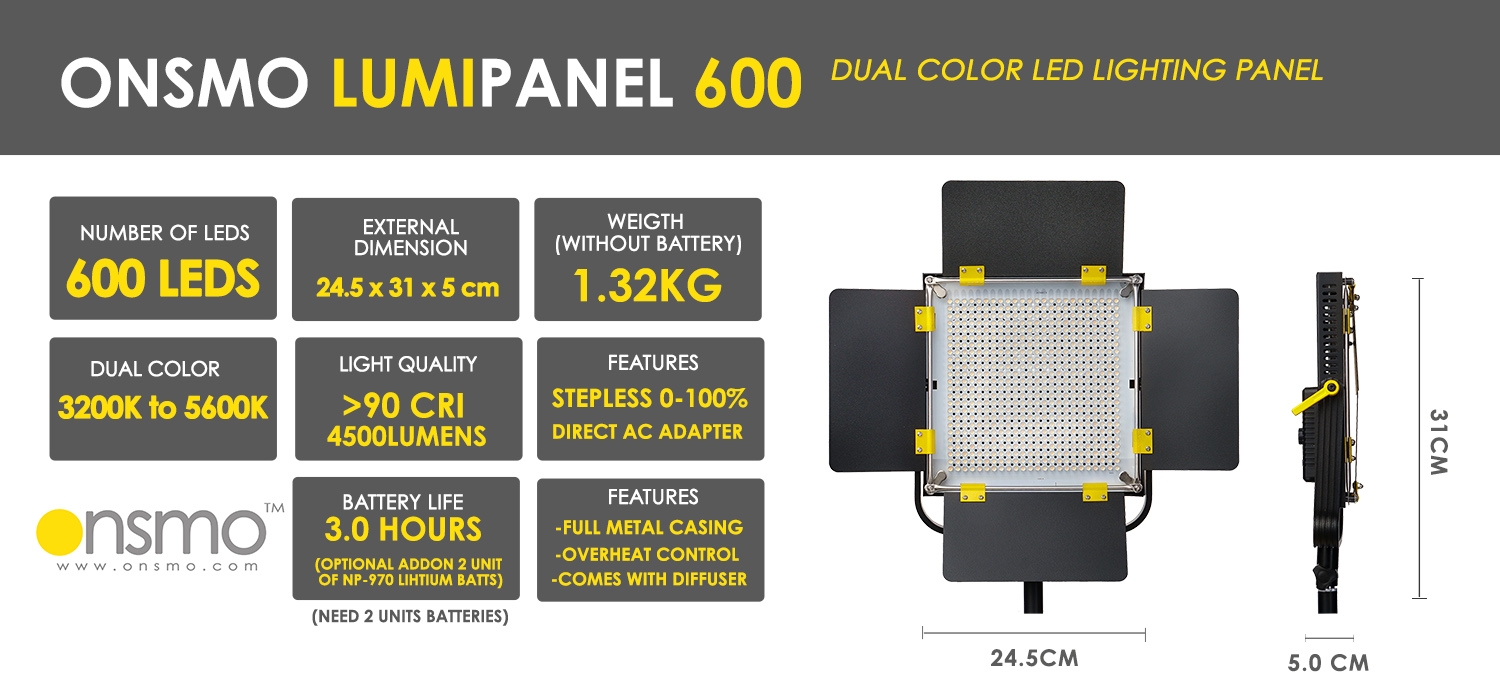 LED digital light is controlled by microcomputer chip, digital tube display. It has the following characteristics: the output power stepless adjustable light, security isolation dc voltage power supply. Can be articulated with camera battery, provide convenient for outdoor shooting.It also has the built-in temperature protection circuit, built-in automatic cooling system.

What is this Onsmo LUMIPANEL 600 suitable for?
Note : Optional Lithium Battery is needed if you plan to purchase the lithium battery to use outdoor or without indoor cable.
Features
Effective durable and premium LED beads offer accurate color and brightness.

Digital power display settings with stepless power control knob

Can be used with the power adapter supplied or with portable Lithium battery (up to 3 hours with 2 units of FP-970 batts, sold separately)

Comes with U metal bracket so that the panel can be adjusted easily.

Excellent heat dissipation fully metal casing and metal barndoors.

Plastic diffuser with magnet attachment for ease of removal.
Package Content
1 x Onsmo Lumi Panel 600
1 x Onsmo Diffusing Panel with magnetic attachment
1 x Power Adapter (Malaysia Plug)
1 x Onsmo 2.3m Light stand (with light stand bag)
Product Specification:
| | |
| --- | --- |
| LED Video Light | ONSMO LumiPanel 600 |
| Lithium Battery | 7.4V lithium battery (SONY NP-F970 model lithium battery)(Sold separately) |
| DC Power Supply | 13-16.8V |
| Power | Max. 40W |
| Color Temperature | 3200k-5600k+/-300k |
| Battery Life | 3 to 3.5 hours of usage of 2 units of FP970 |
| Group | - |
| Brightness (LUX) | 4500 Lumens |
| Color Rendering Index | >90 |
| TLCI | ≥94 |
| Light Brightness Range | 3300k-5600k, 1%-100% |
| LED Beads Quantity | 5600k: 300 units; 3300k: 300 units; |
| Operation Temperature | (-10-40) Celsius |
| Dimension | (270x270x50)mm |
| Net Weight | 1.32KG |
Product Specification:
| | |
| --- | --- |
| LED Video Light | ONSMO LumiPanel 600 |
| Lithium Battery | 7.4V lithium battery (SONY NP-F970 model lithium battery)(Sold separately) |
| DC Power Supply | 13-16.8V |
| Power | Max. 40W |
| Color Temperature | 3200k-5600k+/-300k |
| Battery Life | 3 to 3.5 hours of usage of 2 units of FP970 |
| Group | - |
| Brightness (LUX) | 4500 Lumens |
| Color Rendering Index | >90 |
| TLCI | ≥94 |
| Light Brightness Range | 3300k-5600k, 1%-100% |
| LED Beads Quantity | 5600k: 300 units; 3300k: 300 units; |
| Operation Temperature | (-10-40) Celsius |
| Dimension | (270x270x50)mm |
| Net Weight | 1.32KG |
Package :
1 x Onsmo Lumi Panel 600
1 x Onsmo Diffusing Panel with magnetic attachment
1 x Power Adapter (Malaysia Plug)
1 x Onsmo 2.3m Light stand (with light stand bag)


bakırköy escort