What's in the box?
1 x FREE An OSMO - DJI FM-15 Flexi Microphone is also included
1 x DJI Cap (limited units)
Product Description
Get closer to your subjects than ever before with the DJI Osmo+, DJI's first handheld gimbal with an integrated zoom camera. A 7× zoom, consisting of 3.5× optical and 2× digital lossless zoom*, gives it a focal length ranging from 22mm to 77mm without sacrificing HD quality. This gives you more control over your composition than ever before.
"The DJI Osmo turned my shaky cell phone videos into silky smooth productions." — The Verge, November 09, 2015

"A hand-held stabilized camera worthy of its price." — outside.com, October 31, 2015
THE ALL DJI OSMO+ (with optical zoom)
FEATURES
- 22-77mm zoom lens, 3.5× optical and 2× digital lossless zoom.(Digital lossless zoom only available when shooting at 1080p.)

- 4K video, 12 megapixel photos, silent recording.

- Professional 3-axis stabilization.

- Take sharper selfies with a 50cm minimum focus distance.

- Support for motion timelapse, panorama, long exposure and more.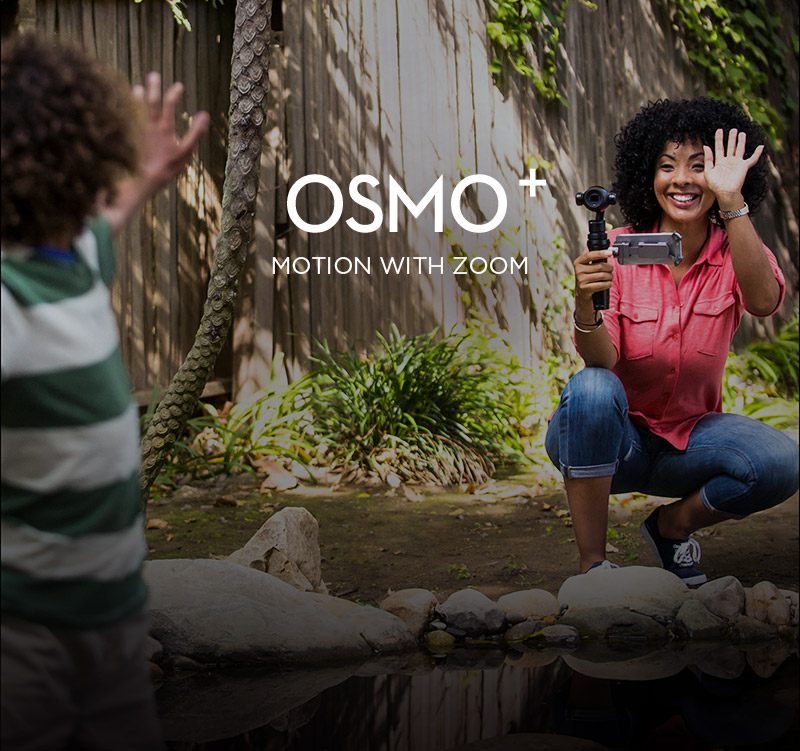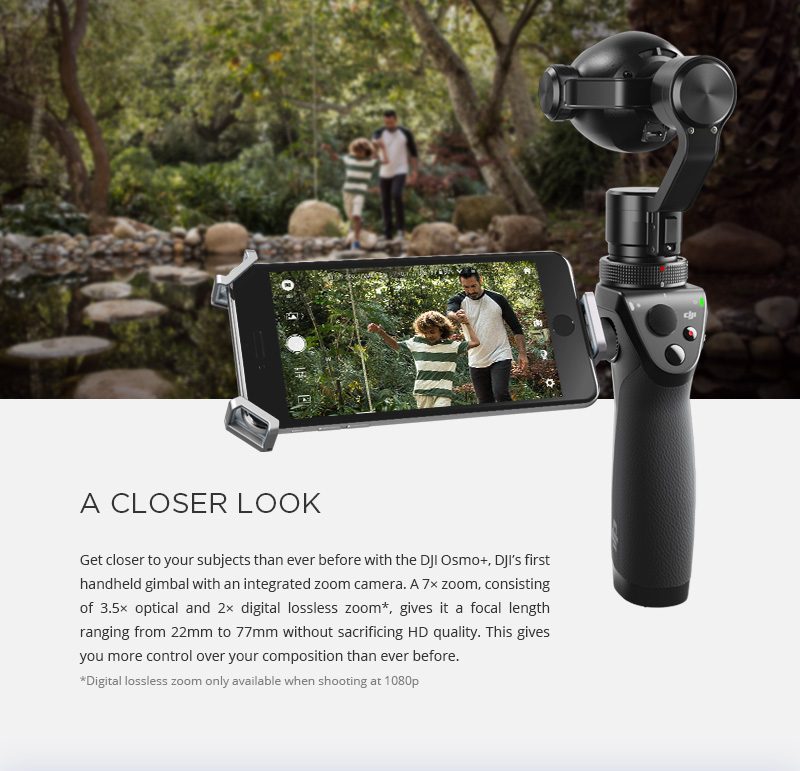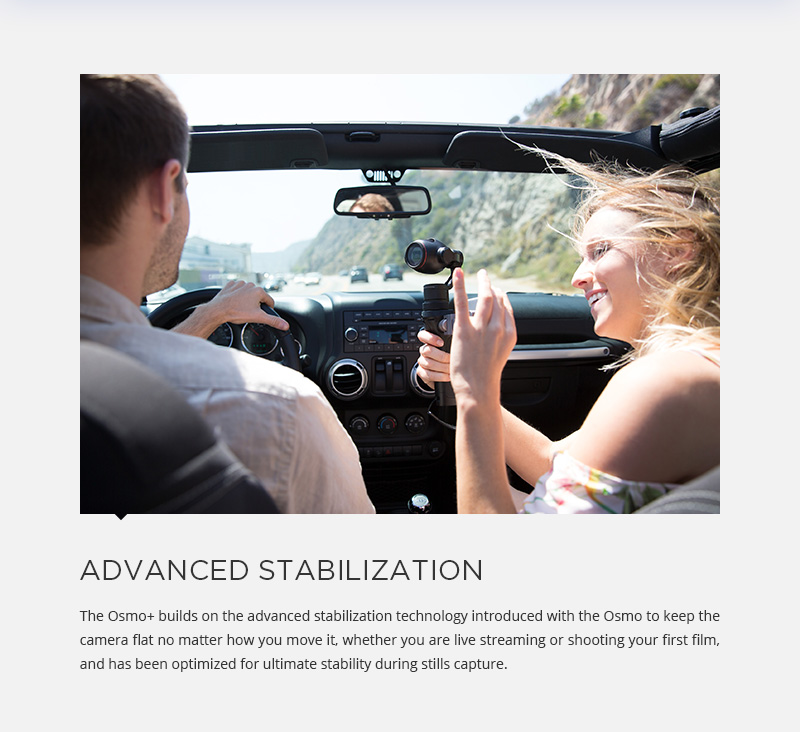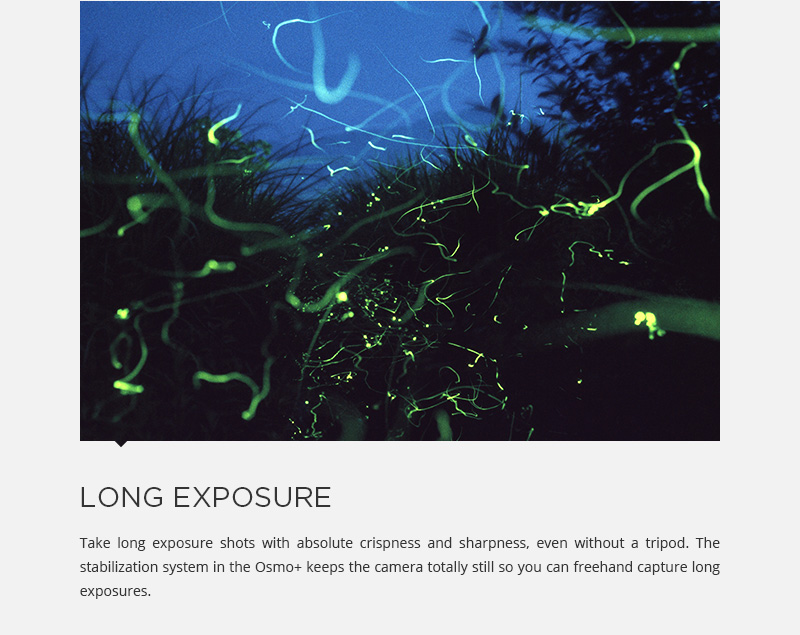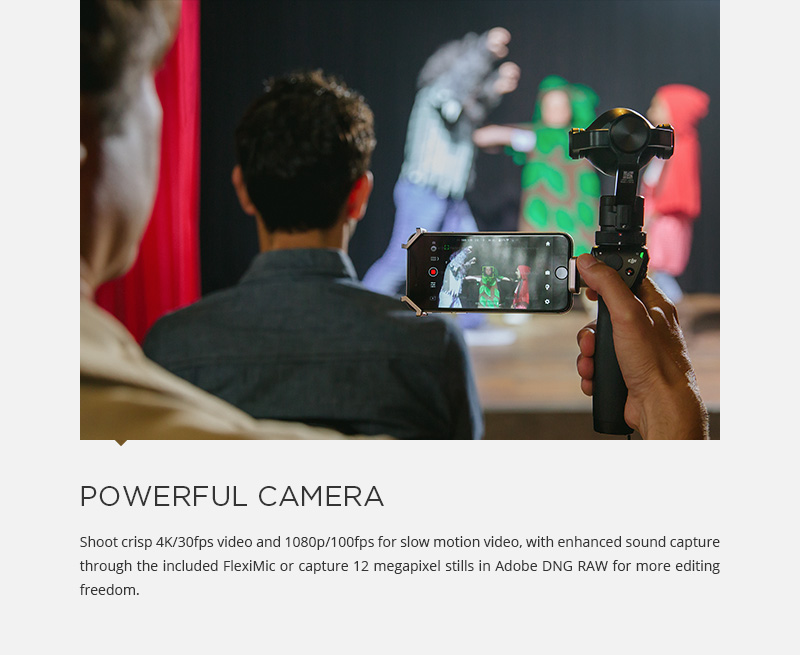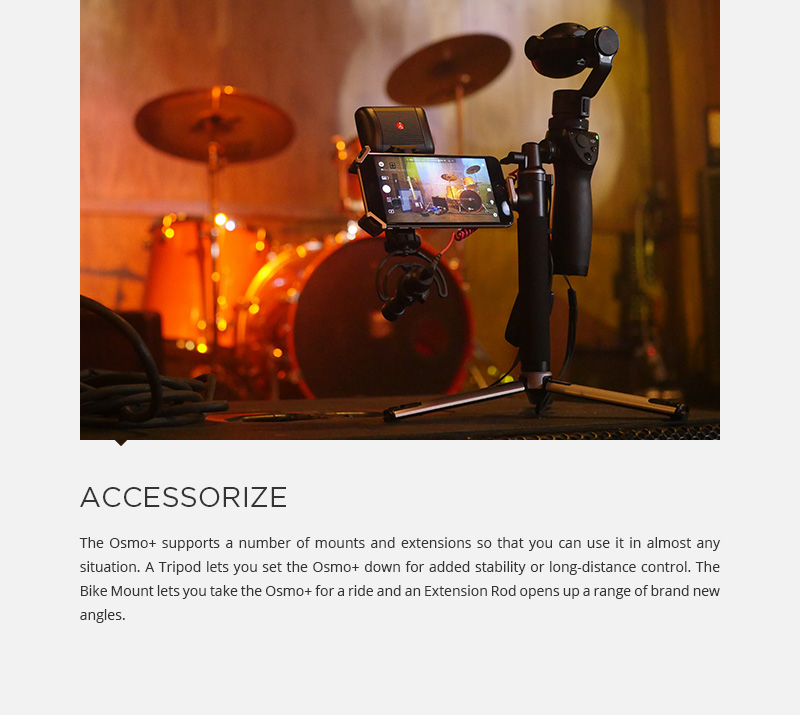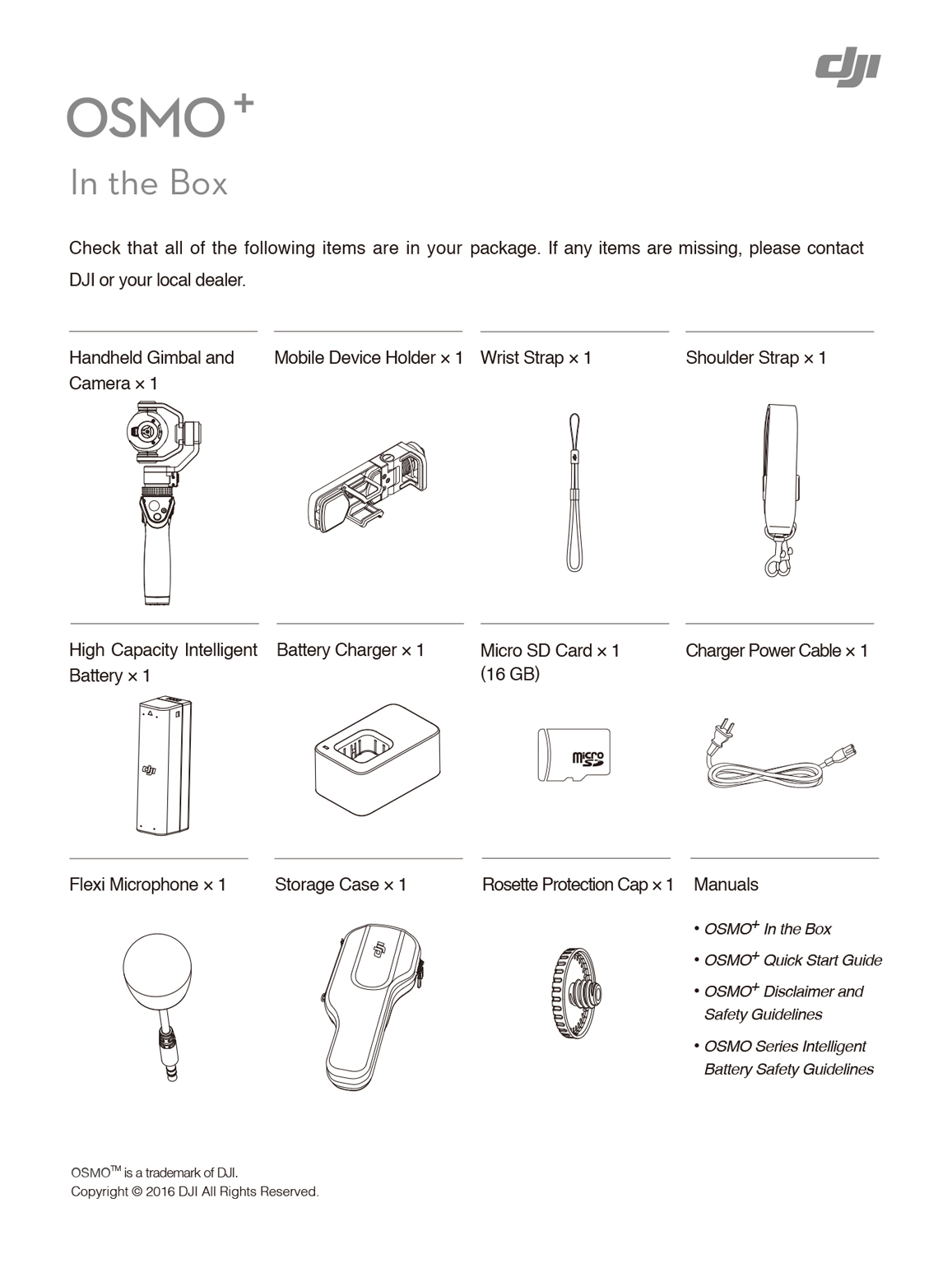 Camera and Gimbal
What's the difference between the Osmo and the Osmo+?
The Osmo+ uses a Zenmuse X3 zoom camera offering up to 7x zoom when shooting 1080p HD video. This is made up of a 3.5x optical zoom and 2x lossless digital zoom. The Zenmuse X3 camera on the Osmo uses a 20mm prime lens with a fixed focal length and focus. It provides a 2x lossless digital zoom when taking 1080p videos.
Can I focus when shooting with an Osmo+? If yes, how?
Yes. The Osmo+ will automatically focus on where you tap on the screen.
What are the max. video and photo resolutions for the Zenmuse X3 Zoom camera?
4K video; 12 megapixel photos.
Can I take timelapse videos with Osmo+?
Yes.
Can I take long exposure shots with Osmo+?
Yes.
Others
How long can I shoot for with the Osmo+?
With the standard Osmo High Capacity Intelligent battery you can shoot up to 100 minutes.
Is Zenmuse X3 Zoom compatible with any aerial system?
No, because the software and hardware solutions of the two products are different.
What's the operating temperature range for the Osmo+?
0℃ to 40℃ .
What's the max. controllable range of the Osmo+?
25m in ideal situations. Actual range is dependent on the environment.
What kind of Micro SD card can be used on Osmo+?
Class10 and UHS1 or above.
Can I mount the Osmo+ on the Osmo Z-Axis?
Yes. As the Osmo+ is heavier, you will need to adjust the balance by turning the tension adjustment knob after mounting the Osmo+ on the Z-Axis.
What's in the box?
1 x DJI OSMO +
1 x FREE DJI CAP
1 x FREE An OSMO - DJI FM-15 Flexi Microphone is also included





bakırköy escort