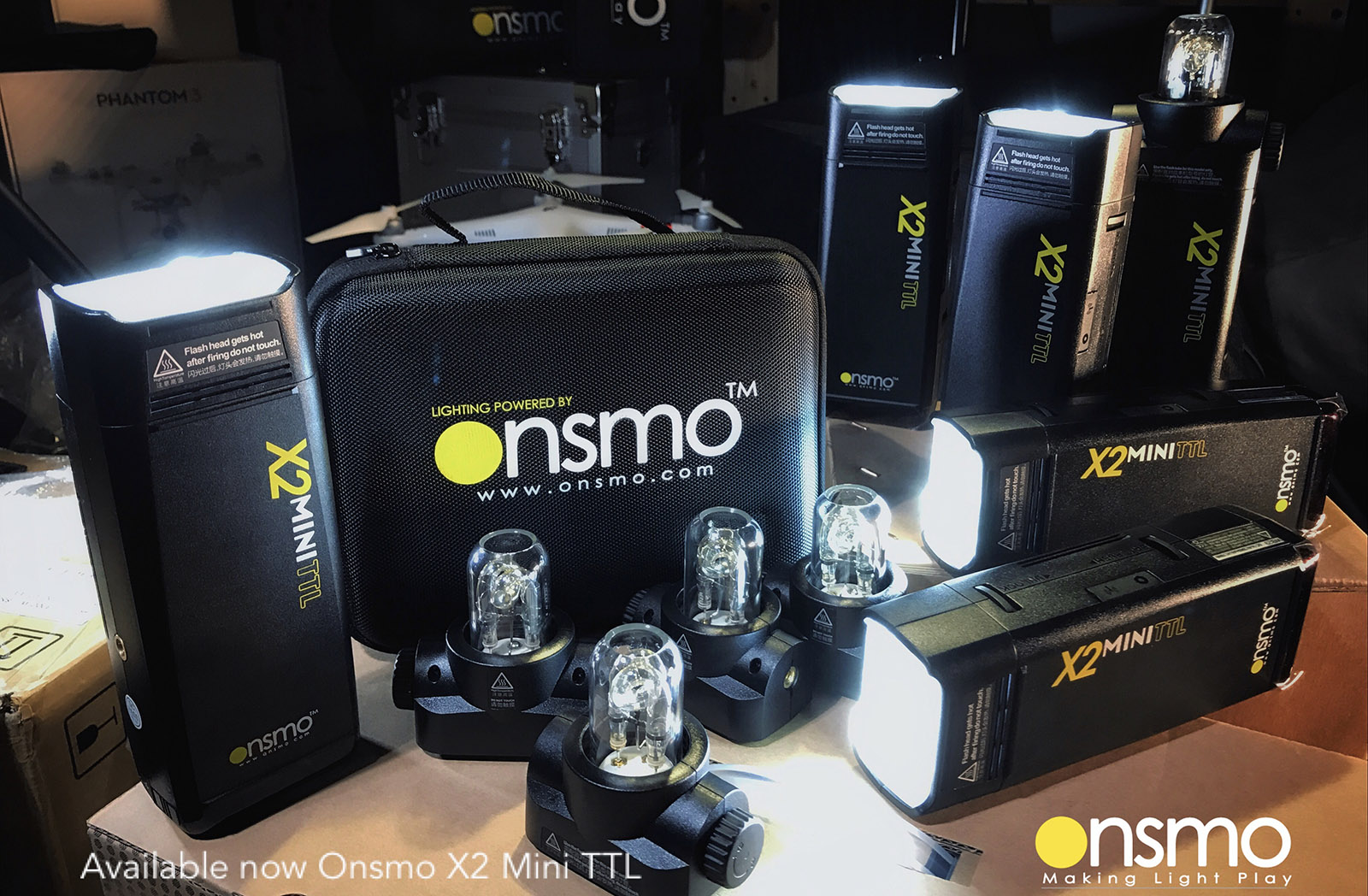 PRODUCT DESCRIPTION
Onsmo X2 Mini TTL is the latest battery powered mini strobe with Built-in 2.4G wireless X system. It can supports Canon, Nikon and Sony systems (both TTL and HSS, need to purchase trigger separately). This strobe is very small and compact and it is very recommended for travelling photographers and prewedding photographers.
Key Features :
- Miniaturized Interchangeable Modular Flashhead Components
- Barebulb Reflector or Fresnel Speedlight Style
- 200ws of TTL power in a compact format
- Onsmo X Wireless 2.5 GHz Radio System for Canon, Nikon and Sony
- 330 foot Wireless Radio Range
- TTL / Manual / Multi Flash Modes
- Recycles in less than 2 seconds at full power
- High Speed Sync to 1/8000th second
- FEC/FEB in 1/3rd stop increments over 6 stop range
- Manual power in 8 stop range from 1/1 to 1/128 in 1/3 stop steps
- Rechargeable and Interchangeable 2900mAh Lithium Battery
- 520 Full Power Flashes
- LED Modeling with Fresnel Head
- 5 Groups
- 32 Channels
- Optic Slave for Canon, Nikon and Sony
WHY BUY ONSMO Lighting product with local Malaysia support and trusted by local professional photographers.
RECOMMENDED Upgrade to New Onsmo XPro Trigger for RM100 more from normal Onsmo Speed X trigger
- What are the new features and difference for the trigger? (available for Canon and Nikon only the new trigger for now)
1. Bigger screen
2. Pro trigger design
3. Easier group control (dedicated button for each group)
4. Able to adjust all group at same time (all group increment of power)
5. Able to do first shot in TTL, and then hold TCM button to go back to manual mode to save power after knowing the TTL readings
6. However, Disadvantage is without hot shoe mount.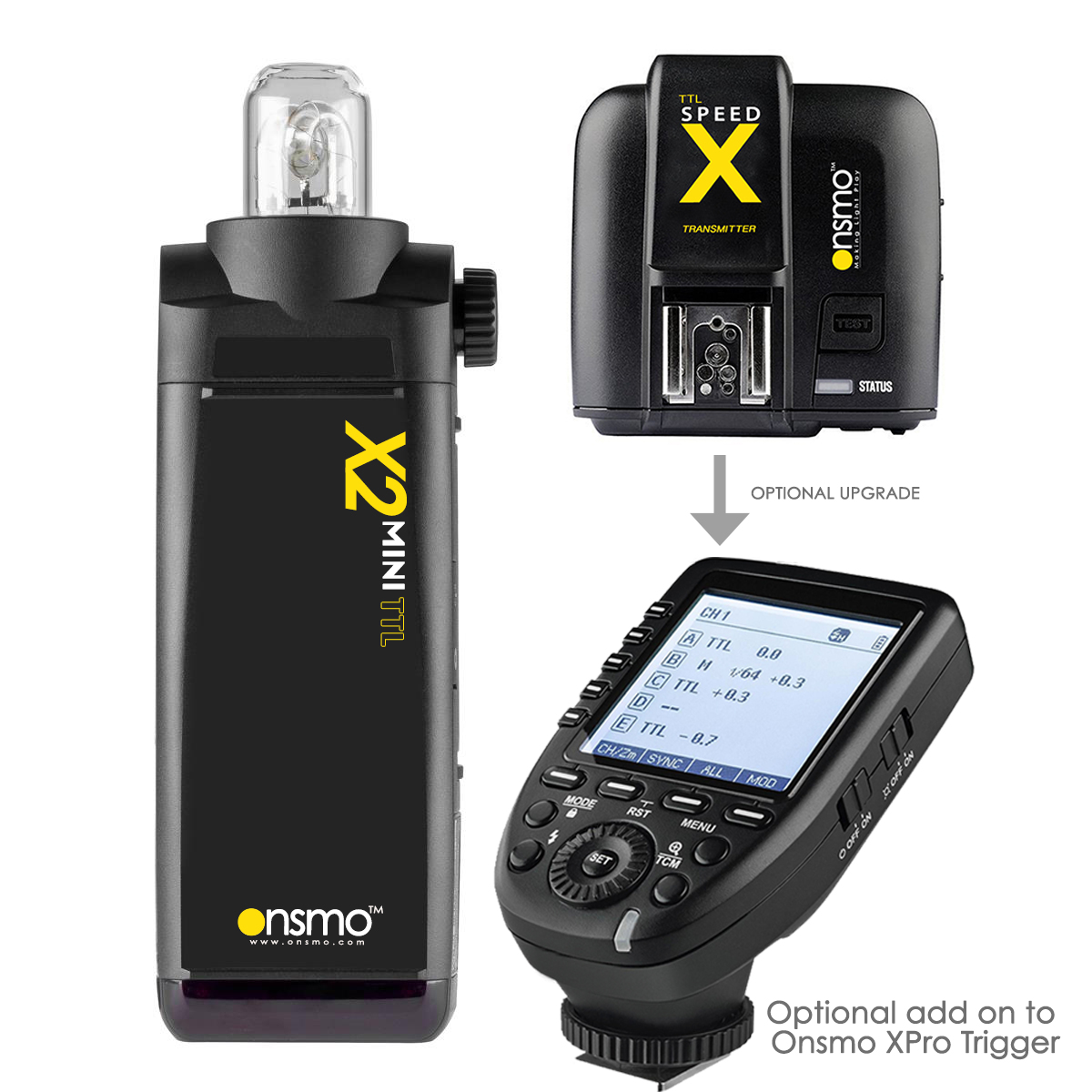 Add on items for Onsmo X2 MINI TTL (photo as above)
Item 1 - Onsmo S Bracket - RM85
Item 2 - Onsmo Reflector Bowl and Diffuser Panel - RM65
Item 3 - Onsmo X2 Mini TTL extra battery - RM240
Item 4 - Onsmo Octa 120cm grid - RM280
Item 5 - Onsmo Octa 95cm with grid - RM260
Do email us at sales@bigbigstudio.com if you want to add on other accessories and have other enquiries thanks.
Specifications
Max Power (Ws): 200




Guide Number @ ISO100(Speedlite Head): 52m




Guide Number @ ISO100(Bare Bulb Head): 60m (With AD-S2 Reflector)




Power Range: 8 F-Stops 1/1–1/128 Power




Flash Modes: TTL / Manual / Multi-Flash




Flash Duration (Speedlite Head): 1/220 – 1/13,000 sec




Flash Duration (Bare Bulb Head): 1/220 – 1/11,300 sec




Colour Temperature: 5600K ± 200K




Recycle Times: 0.01 - 2.1 sec




FEC / FEB: 1/3rd Increments (±3 Stops)




Flash Exposure Lock: Yes




Stroboscopic Multi-Flash: Yes (Up to 90 flashes 99Hz)




Sync Modes: High-Speed Sync (Up to 1/8000s),




First Curtain Sync, Rear Curtain Sync




Flash Delay Mode: 0.01 - 30s




Mask Function: Yes




Beep: Yes




LED Modelling Lamp: Yes* (Speedlite Head Only)




Optical Slave Modes: S1 and S2




Display: LCD Panel




Built-In 2.4G Receiver: Yes




Transmission Range Approx. 100m




No. Channels: 32 (1-32)




Controllable Groups: 5 (A, B, C, D, E and F)




Power Supply: Lithium battery pack (14.4V/2900mAh)




Full Powered Flashes: Approx. 500 per charge




Dimensions(Without Flash Head): 168mm x 75mm x 50mm




Net. Weight(Without Flash head and Battery): 560g
(RAYA 2019) Onsmo X2 Ultimate Kit Set
2 x Onsmo X2 Mini Pro TTL
2 x 200w Bare Bulb Head
2 x Fresnel Head with LED Modeling
2 x Stand Adapter with Umbrella Mount
2 x 2900Mha Lithium Battery
2 x Battery Charger
2 x Onsmo Hard Case

1 x Onsmo Xpro trigger (canon/nikon/sony)
2 x Onsmo S Bracket
1 x Onsmo AD-B2 Bracket (for dual light)
1 x Onsmo Para 70cm Softbox
1 x Onsmo Porta X-65cm
2 x BB260 Pro Stand
1 x Onsmo Stand Bag
1 x Onsmo T-shirt

FREE SHIPPING
1 Year Onsmo Malaysia Warranty

bakırköy escort