The CamRanger 2 is the newest offering from CamRanger, boasting new and improved features, such as being 5x faster, a range 3x larger, support for more brands and cameras, an onboard SD card, multiple camera mounting options and new software offerings such as image editing and cropping, camera presets, and focus stacking to name a few.
The cameras supported by the CamRanger 2 are expanded, from the original and Mini's support of Nikon and Canon cameras, the CamRanger 2 brings out support for Sony and Fujifilm cameras. (Selected models only. Full list can be found at:

https://camranger.com/knowledge-base/supported-cameras/

) The CamRanger 2 has, in addition to the aforementioned image editing, cropping, presets and focus stacking, it has overlays for gridlines and watermarks, HDR support, image rating and selecting, multi-device sharing, autosharing and transfers, multi camera controls, image comparisons, and a built-in photobooth app.
The internal onboard SD card slot is compatible with SD/SDHC/SDXC format cards. The CamRanger 2 runs with a dedicated app, available for free on the CamRanger website, Apple App Store and Google Play Store, compatible with iOS(9 and later), Android(5.0 and later), Windows (8 and later), and macOS (10.11 and later).
The battery is rechargeable and replaceable and is rated for 3300 mAh, and a Micro-USB charging cable is provided, rated at 5V 2A. The wireless connectivity is based off TP-Link technology and supports 802.11n on 2.4GHz and 802.11ac on 5GHz with a range of 500 feet/150 meters. Additional batteries and accessories for the CamRanger 2 are sold at BigBig Studio Lighting Equipment.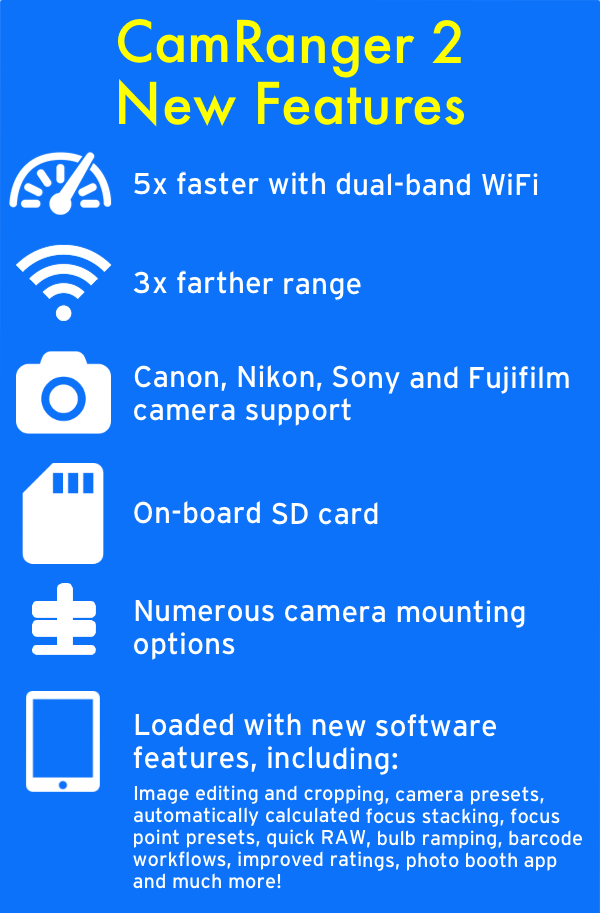 Supported Cameras
Physical Specifications
Length: 4.2″
Weight: 5.6 oz
1/4 20″ screw mount for multiple camera attachment options- hot shoe mount included
SD/SDHC/SDXC Card compatibility
WiFi Networking
300 Mbps 802.11n 2.4 GHz network (60 Mbps throughput)
433 Mbps 802.11ac 5 GHz network (180 Mbps throughput)
Bridge into existing WiFi networks
Web GUI for advanced configuration
Image Capturing & Viewing
View and capture RAW and JPG images
Full RAW or quick RAW mode (embedded JPG)
View/download videos (iOS), Download videos (Android, macOS, Windows)
Save images to CamRanger SD card with custom file names
View all images on the camera's SD card. View all the images on the CamRanger SD card in the CamRanger app, from a web browser, or mounted as a samba share
Overlays for gridlines, watermarks, images with transparency adjustment, file name, EXIF data, histogram, highlights, shadows, and focus peaking.
View recently viewed images without being connected to the CamRanger.
CamRanger Share – share thumbnails, images, and live view to other devices running the CamRanger Share app
Auto share/save/transfer images
Social media upload (iOS & Android)
Edit and crop images (iOS)
Multiple camera control (macOS & Windows)
Trigger image transfer from camera (Canon & Nikon)
Package Includes:
1 x CamRanger CamRanger 2 Advanced Wireless Camera Control

1 x 3300 mAh Replaceable Lithium-Ion Battery

1 x Micro-USB Charger

1 x Hot Shoe Adapter

1 x Mini-USB Camera Cable

1 x Instruction Manual

1 x Carrying Case

bakırköy escort