THIS IS THE WIRELESS HANDHELD FOR TWO PERSON TALKING. The kit comes with 2 Receiver for camera, 2 Transmitters with lavalier mic + 1 unit of SR-HM4C Hand-held microphone.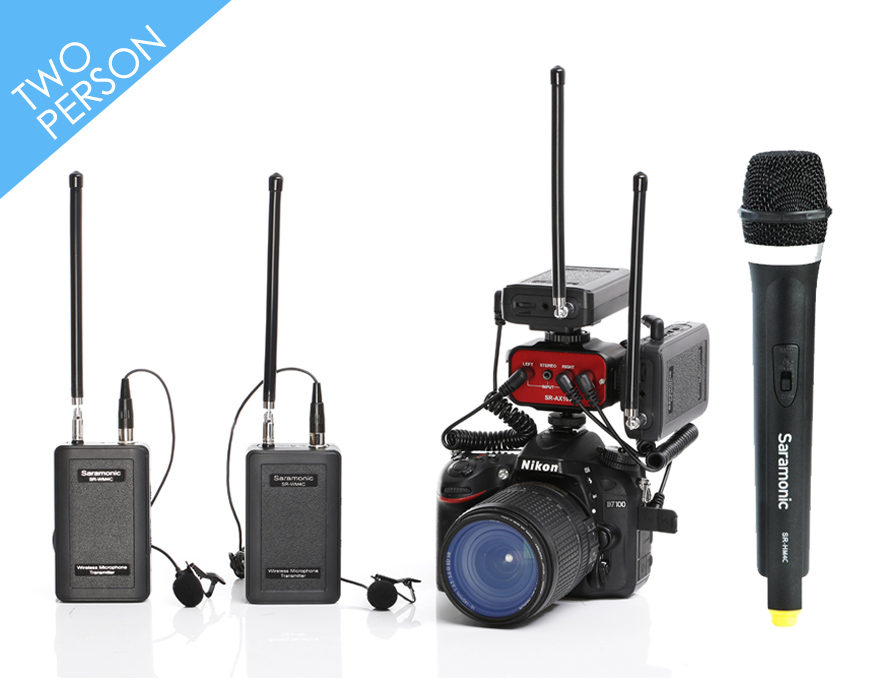 You can either choose to use this condition of usage with your this package
1 person on clip mic + 1 person on handheld mic (keep away one more clip mic)
OR
both person on clip mic (keep away the handheld mic)
In the box (FOR Maximum TWO PERSON TALKING)
2 x WM4C Receiver (for camera)
2 x WM4C Transmitter with lavalier mic and clip (for clip on)
1 x SR-HM4C Handheld mic
The Saramonic SR-HM4C is a Wireless Handheld Microphone featuring a integrated wireless transmitter and is designed to work with the SR-WM4C receiver.
The SR-WM4C is a compact and lightweight VHF wireless microphone system - the perfect audio solution for recording simply and easily, free from the limit of distance.

The SR-WM4C is ideal for film making, conducting broadcast interviews and business presentations - or any other need that requires portability and great sound quality.
- Wireless VHF Handheld Microphone with Integrated Transmitter for the SR-WM4C Wireless System

- Four switchable channels to keep you free from interference

- VHF 203-216MHz Frequency; 200-foot range

- Operates on 2 "AA" Batteries

- 1 Year Warranty

Specifications
Wireless Frequency: VHF 203-216MHz
Signal to Noise Ratio: 70dB or more
Voice Delay: 12ms
Battery Type: 2 "AA"Alkaline Batteries
Battery Life: 3 hours
Dimensions: 10.25 x 1.7 x 1.4" (26 x 4.3 x 3.5cm)
Weight: 4.8 oz (137g)
This package is suitable to record the voice of 2 person into one camera, via the AX-100 adapter. So both Saramonic WM4C receiver will be connected to the AX100 adapter (left and right input), then then output into the DSLR.
Characteristics:
Four switchable channels to keep you free from interference

Detachable and flexible antenna can be rotated 360 degrees acrdingly for best sound

The high-band VHF provides pure sound

Record audio up to 60 metes away with no obstacle

Real-time monitoring

Volume control wheel

LED indicator light indicates battery life

Power provided by two AA size alkaline battery

Includes a belt-pack transmitter, camera mountable receiver and an omnidirectional lavalier microphone
Please take note the lavalier is mini-XLR type
Video :
Features :
Wireless Microphone with Range of 60m

Works with SR-WM4C Receiver

Powered by AA Batteries for Three Hours

Four Switchable Channels to Reduce Interference

Compact and Lightweight Build
In the box (FOR ONE PERSON TALKING)
2 x WM4C Receiver (for camera)
2 x WM4C Transmitter with lavalier mic and clip (for clip on)
1 x SR-HM4C Handheld mic
1 x SR-AX100 adapter