ENDURO F1 DUAL FAST CHARGER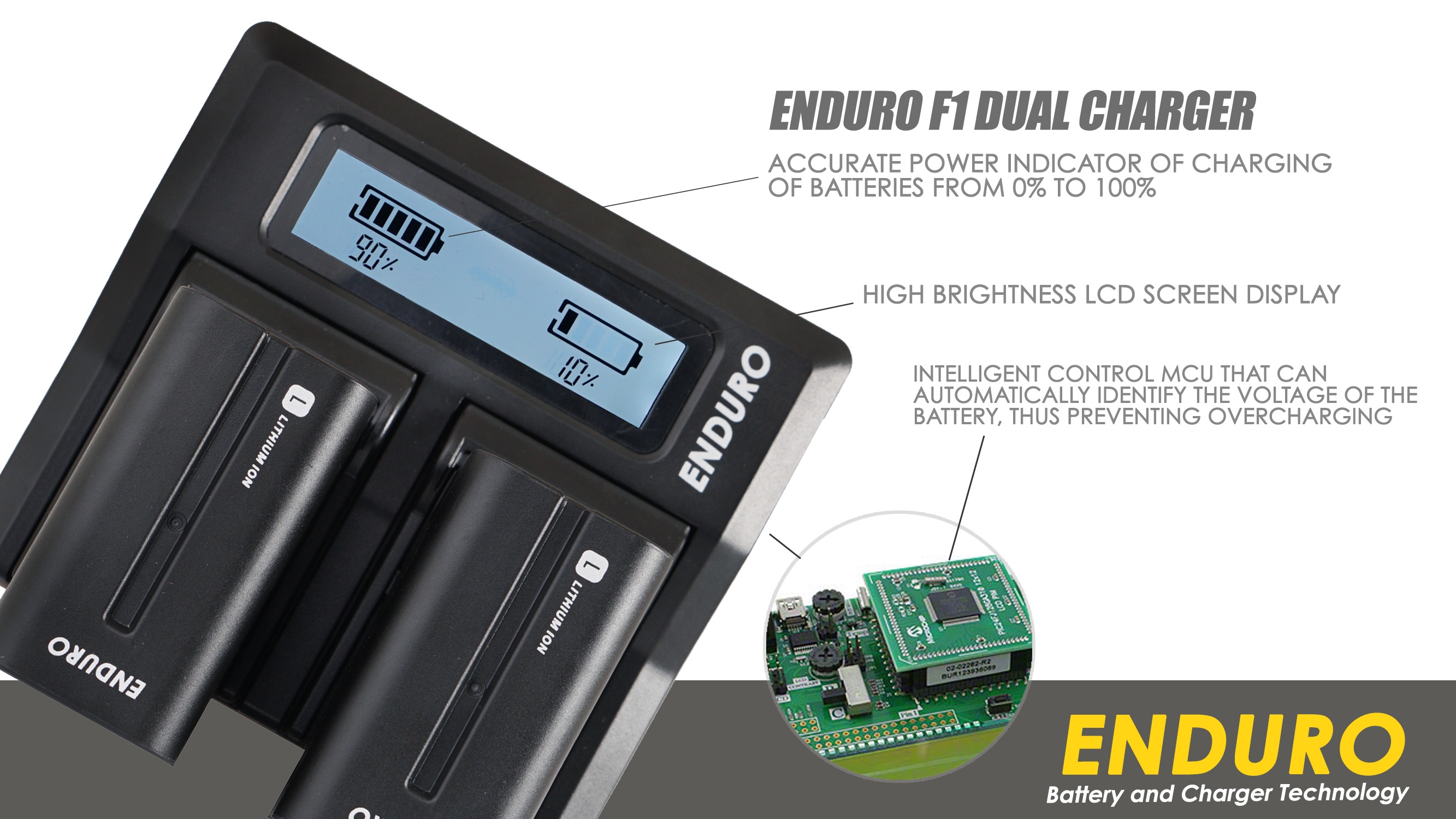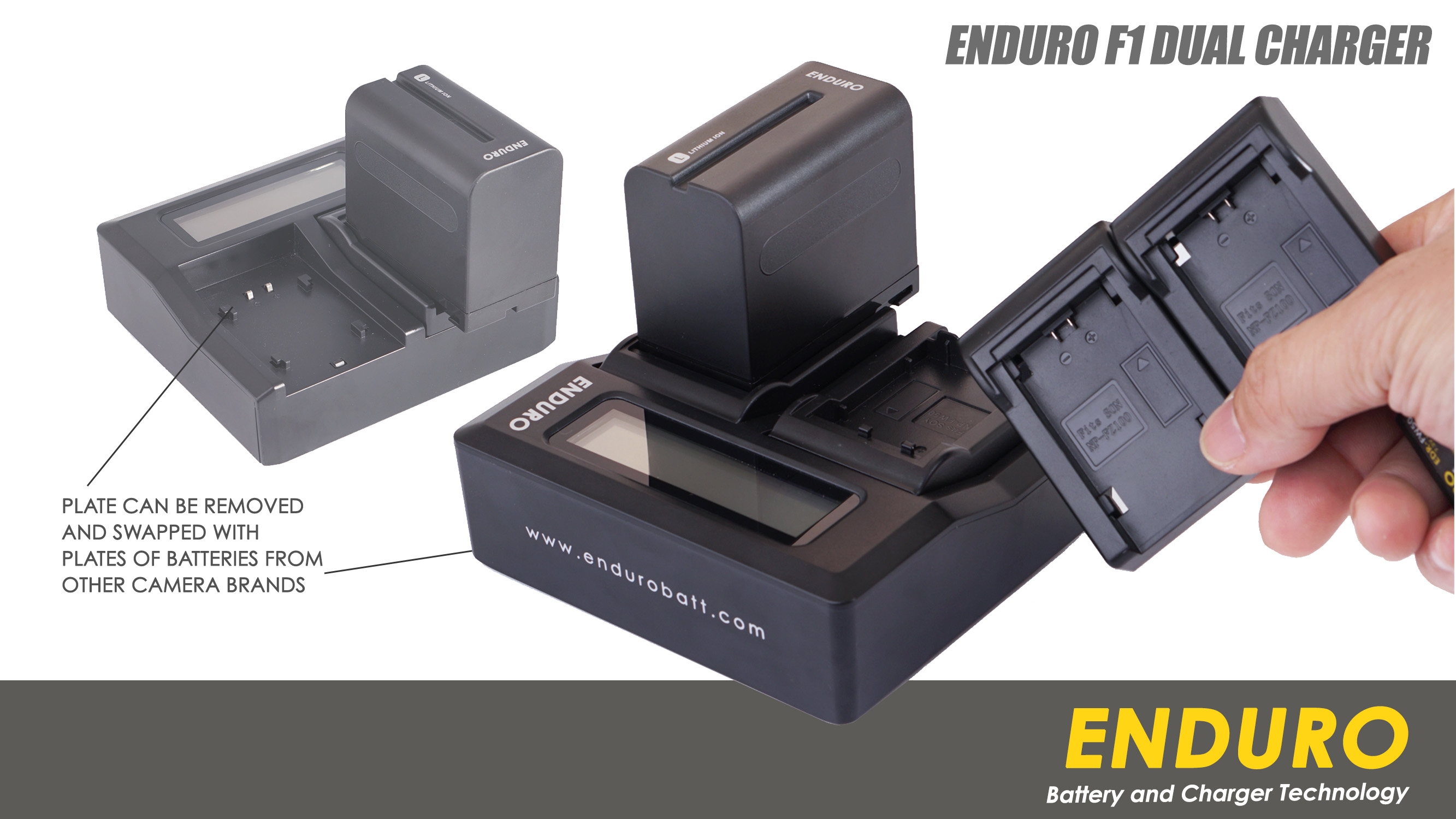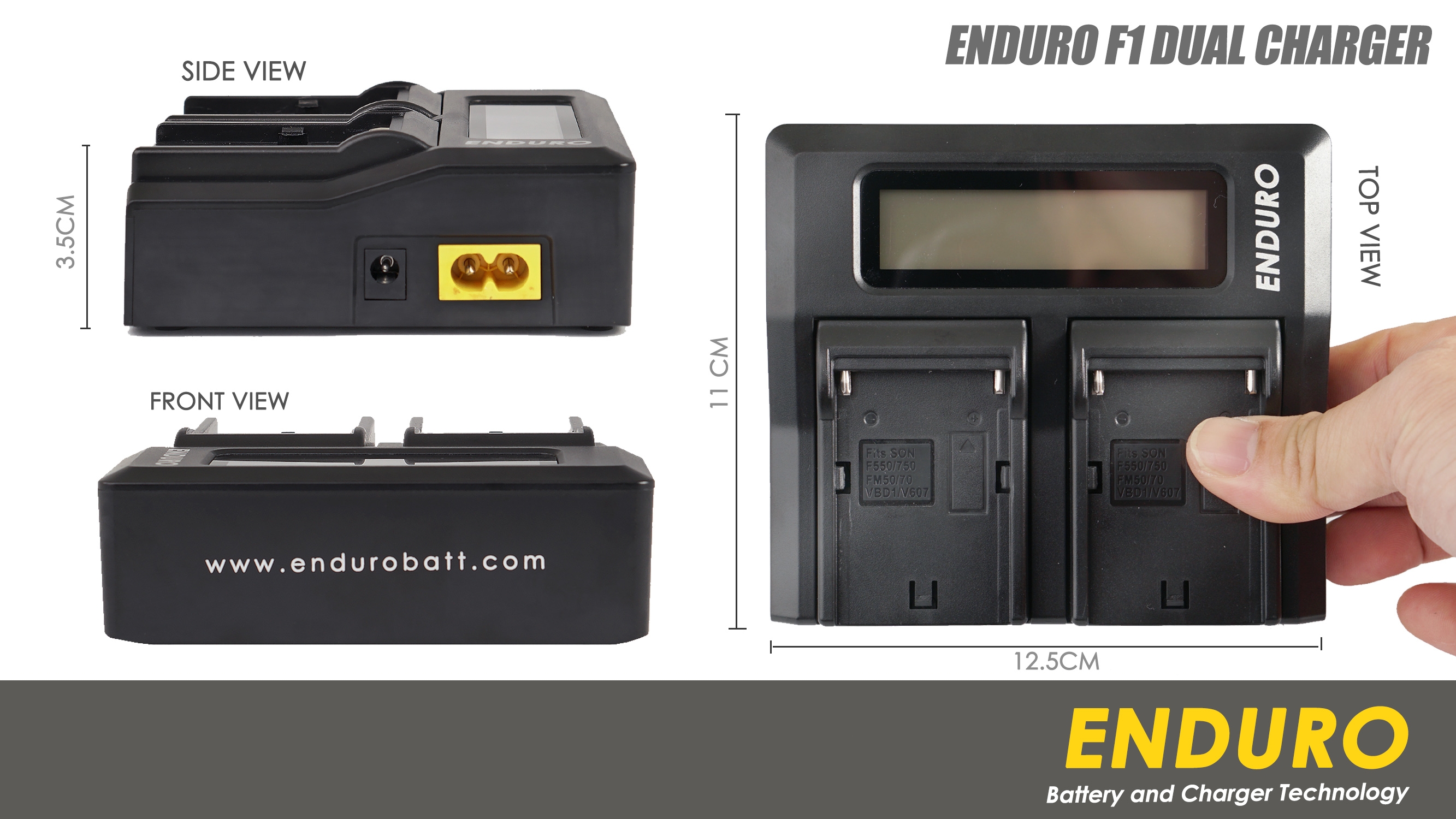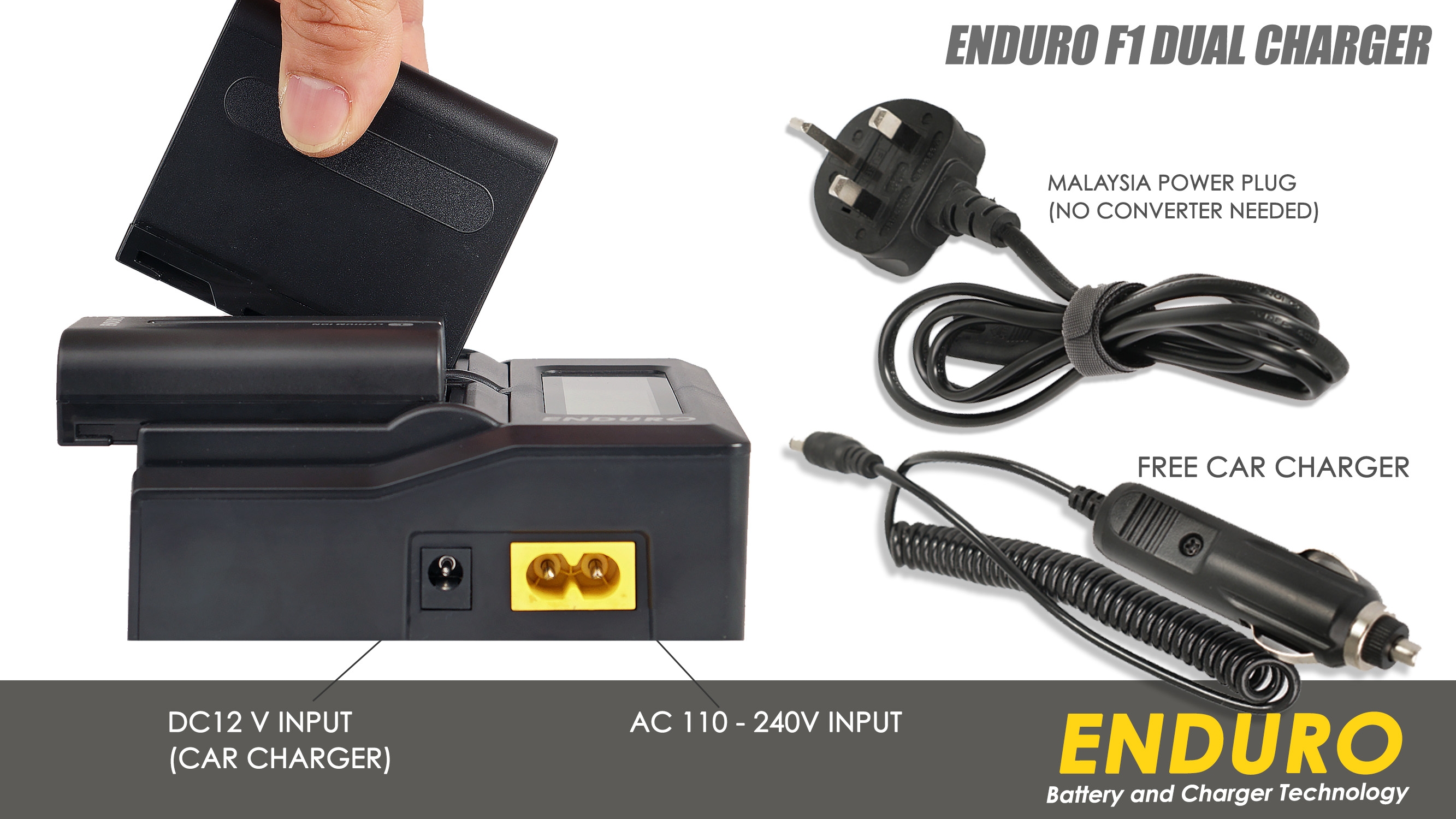 Designed for7.2V /7.4V Li-ion digital battery. Dual charging port design .It can charger two batteries at the same time. LCD display Battery power level show ,the percentage of power level and current mode.
Intelligent control MCU can automatically idetify the voltage of the battery ,going intelligent charger when being charging,and prevent overcharge.
What batteries suitable for this charger?
100% Works with Sony NP-F550/F570/F750/F770/F930/F950/F960/F970, NP-FM50/FM500H/QM71/QM91/QM71D/QM91D Camcorder Batteries.
Caution Note: Try not to leave the charger overnight or unattended for long time.
Features
Effective durable and premium LED beads offer accurate color and brightness.

Digital power display settings with stepless power control knob

Can be used with the power adapter supplied or with portable Lithium battery (up to 3 hours with 2 units of FP-970 batts, sold separately)

Comes with U metal bracket so that the panel can be adjusted easily.

Excellent heat dissipation fully metal casing and metal barndoors.

Plastic diffuser with magnet attachment for ease of removal.
Package Content
1 x ENDURO F1 Fast Dual Charger
2 x Enduro FP LED Battery Plates (Sony F series Plate)
1 x Power Cable (Malaysia Plug)
1 x Car Charger Cable
Product Specification:
| | |
| --- | --- |
| LED Video Light | ONSMO LumiPanel 600 |
| Lithium Battery | 7.4V lithium battery (SONY NP-F970 model lithium battery)(Sold separately) |
| DC Power Supply | 13-16.8V |
| Power | Max. 40W |
| Color Temperature | 3200k-5600k+/-300k |
| Battery Life | 3 to 3.5 hours of usage of 2 units of FP970 |
| Group | - |
| Brightness (LUX) | 4500 Lumens |
| Color Rendering Index | >90 |
| TLCI | ≥94 |
| Light Brightness Range | 3300k-5600k, 1%-100% |
| LED Beads Quantity | 5600k: 300 units; 3300k: 300 units; |
| Operation Temperature | (-10-40) Celsius |
| Dimension | (270x270x50)mm |
| Net Weight | 1.32KG |
Product Specification:
| | |
| --- | --- |
| LED Video Light | ONSMO LumiPanel 600 |
| Lithium Battery | 7.4V lithium battery (SONY NP-F970 model lithium battery)(Sold separately) |
| DC Power Supply | 13-16.8V |
| Power | Max. 40W |
| Color Temperature | 3200k-5600k+/-300k |
| Battery Life | 3 to 3.5 hours of usage of 2 units of FP970 |
| Group | - |
| Brightness (LUX) | 4500 Lumens |
| Color Rendering Index | >90 |
| TLCI | ≥94 |
| Light Brightness Range | 3300k-5600k, 1%-100% |
| LED Beads Quantity | 5600k: 300 units; 3300k: 300 units; |
| Operation Temperature | (-10-40) Celsius |
| Dimension | (270x270x50)mm |
| Net Weight | 1.32KG |
Package Content
1 x ENDURO F1 Fast Dual Charger
2 x Enduro FP LED Battery Plates (Sony F series Plate)
1 x Power Cable (Malaysia Plug)
1 x Car Charger Cable

bakırköy escort