Product Features
This Onsmo LX800 TTL Speedlight, with build-in 2.4G wireless transmission, it can be used with Onsmo X1 Pro TTL and Non-TTL Outdoor strobe, Onsmo Speed X (Nikon, Canon and Sony) trigger and other devices that with X wireless control system. (can be used with Godox X system)
High-speed sync (HSS): Can realize high speed sync when used on particular brand of camera depending of the model specifically chosen. (currently available in Canon, Nikon, Sony)
Powered by 1 Lithium Battery (up to 900 full shots, 3 times double A batteries)


TTL functions when use on camera body and off camera body (must purchase Onsmo Speed X Trigger for off shoe triggering)

Able to use HSS with put on body itself without having to go through Speed X Trigger.
Recommended as Master unit on the camera itself, to control other Onsmo LX800 or Onsmo X700 speedlights, or X1 Pro or X2 Mini
Onsmo Malaysia 1 Year Warranty except tube is not covered by warranty.
Product Description
GN 60 (m ISO 100)
Powered by 1 Lithium Battery (up to 900 full shots, 3 times double A batteries)
TTL function with specific camera (Canon, Nikon, Sony, Fuji, Olympus, Panasonic
Flash Mode – M / Multi
Manual Flash – 1/128 – 1/1 Output Control (1/3rd Increments)
Flash Zoom 20 – 200mm
HSS to 1/8000th
Radio Master & Slave Modes for Onsmo Speed X 2.4GHz X Radio System (Remote Manual Only)
5 Groups A / B / C / D / E
32 Channels
Compatible with Onsmo Speed X Nikon, Canon and Sony TTL Transmitter & Receivers
S1 and S2 Optic Slave Modes
Recycle Time: 0.1 – 2.6 Seconds
230 Full Power Flashes (using 2500mAh Ni-MH Batteries)
Full 360 Degree Swivel, and Tilt Head
Large LCD Screen
AF Assist Light (Manual Only)
Metal Foot with Locking Pin (Single Firing Pin)
Sound Prompt
Custom Functions
Settings Memory
Overheat Protection
Communication Port (For XTR-16s / FTR-16s Receivers)
3.5mm Sync Port
External High Voltage Battery Port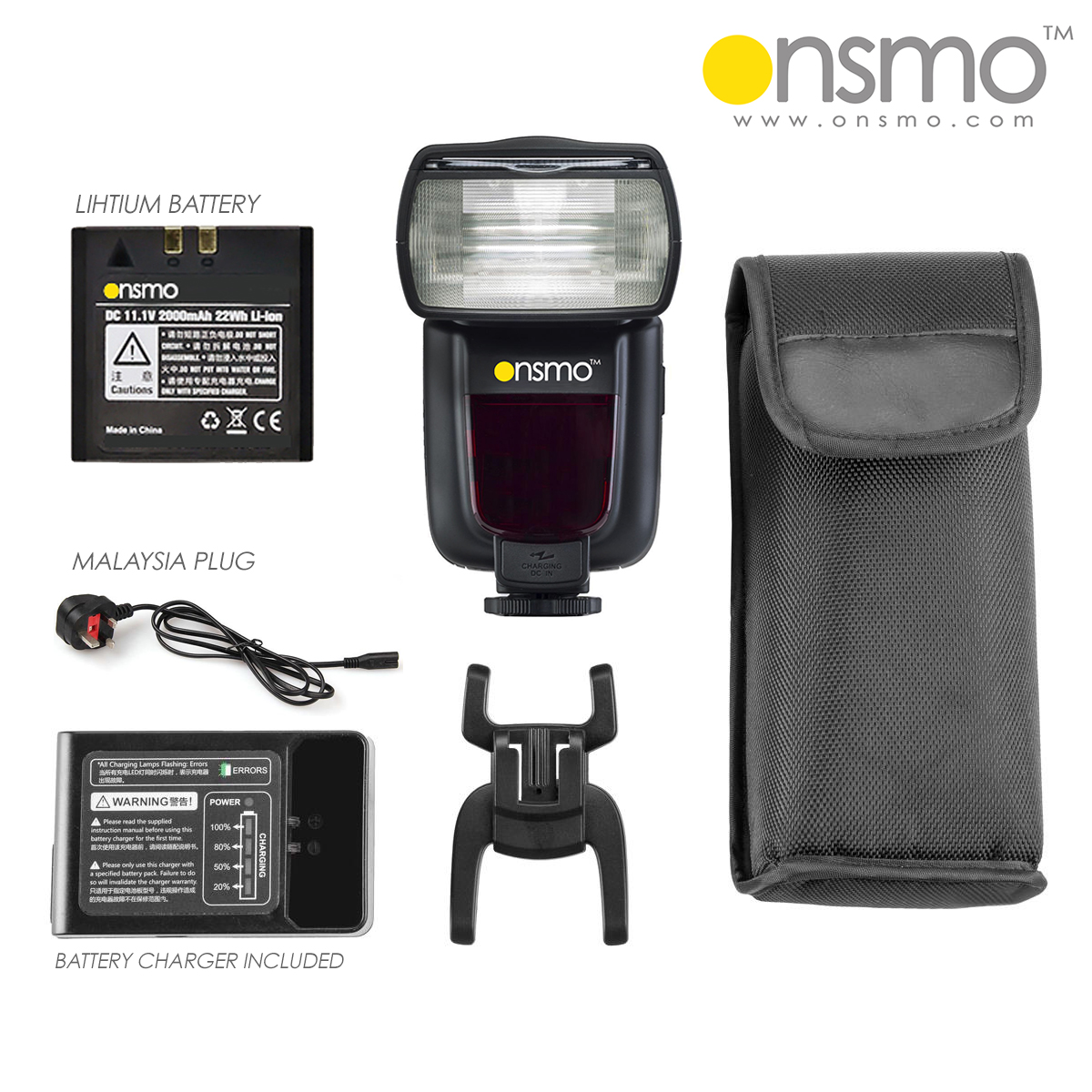 Package Contents:
1 x Onsmo LX800 TTL Speedlight

1 x Onsmo Speed X Trigger TTL

1 x Battery Charger

1 x Lithium Battery
1 x Onsmo LX800 TTL carrying case
1 x hot shoe holder
1 x FREE Transparent Plastic Diffuser
Onsmo Malaysia 1 Year Warranty
1 x Onsmo LX800 TTL Speedlight

1 x Onsmo Speed X Trigger TTL

1 x Battery Charger

1 x Lithium Battery
1 x Onsmo LX800 TTL carrying case
1 x hot shoe holder
1 x FREE Transparent Plastic Diffuser
Onsmo Malaysia 1 Year Warranty