Onsmo X1 Pro Package (without Trigger)
1 x Onsmo X1 Pro (Non TTL)
1 x Onsmo X1 Pro Charger
1 x 600 Watt flash tube
1 x FREE Onsmo Standard Metal Reflector (worth RM50)
1 x FREE Official Onsmo T-shirt
OFFICIAL Onsmo Malaysia 1 Year Warranty Trusted by the professionals such as Eddie Putera, Saiful Nang etc*
DESCRIPTION
Onsmo X1 PRO non-TTL Outdoor Strobe is comes with lithium battery pack (battery is attached to the body of the strobe). Built-in 2.4G wireless X system, it can supports Canon, Nikon and Sony systems with great compatibility. With using Onsmo X1 Pro, your shoooting will become much simpler. You can easily achieve a correct flash exposure even in complex light-changing environments.
NOTE : PAYPAL FEE NEED TO ADD ON 4% OF TOTAL AMOUNT.
Features :
- 600W full power
- High speed sync
- 500 full burst per charge
- 2.5 second at full power
- Control power wirelessly at trigger
- 1/10000th flash Duration
- Usable for all camera brand
The Onsmo X1 PRO comes with bowen mount thus a lot of accessories with bowen bracket can be used to mount on the strobe. The lithium-ion battery pack enabling the strobe to fire up to 500 full power flashes. There is remote head (add on item) which allows users to separate the head from the ballast, like a pack-and-head system.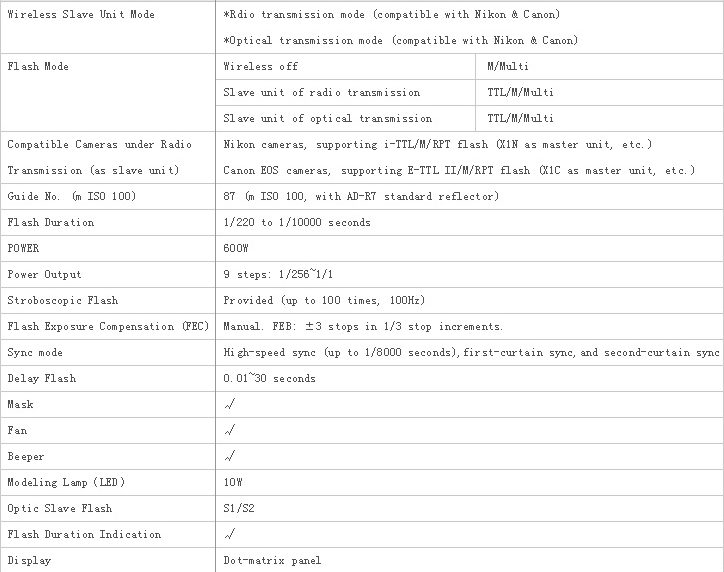 Add on items for Onsmo X1 PRO (photo as above)
Item 1 - Original Padded Bag for Onsmo X1 Pro - RM190
Item 2 - Onsmo Reflector Bowl and Diffuser Panel - RM65
Item 3/4 - Onsmo X1 Pro Flex Head + Onsmo X1 Pro Flex Head carrying case - RM350
Item 5a - Onsmo Octa 120cm grid - RM280
Item 5b - Onsmo Octa 95cm with grid - RM240
Specifications
600Ws

Fan Cooled

10W LED Modelling Light (Adjustable)

Optional Remote Head

Built in (removable) 11.1V / 8700mAh Lithium-ion Battery

Up to 500 Full Power Pops Per Battery Charge
Onsmo X1 Pro Package (without Trigger)
1 x Onsmo X1 Pro (Non TTL)
1 x Onsmo X1 Pro Charger
1 x 600 Watt flash tube
1 x FREE Onsmo White Diffuser (worth RM30)
1 x FREE Onsmo Standard Metal Reflector (worth RM50)
1 x FREE Official Onsmo T-shirt
OFFICIAL Onsmo Malaysia 1 Year Warranty*
Use spaces to separate tags. Use single quotes (') for phrases.