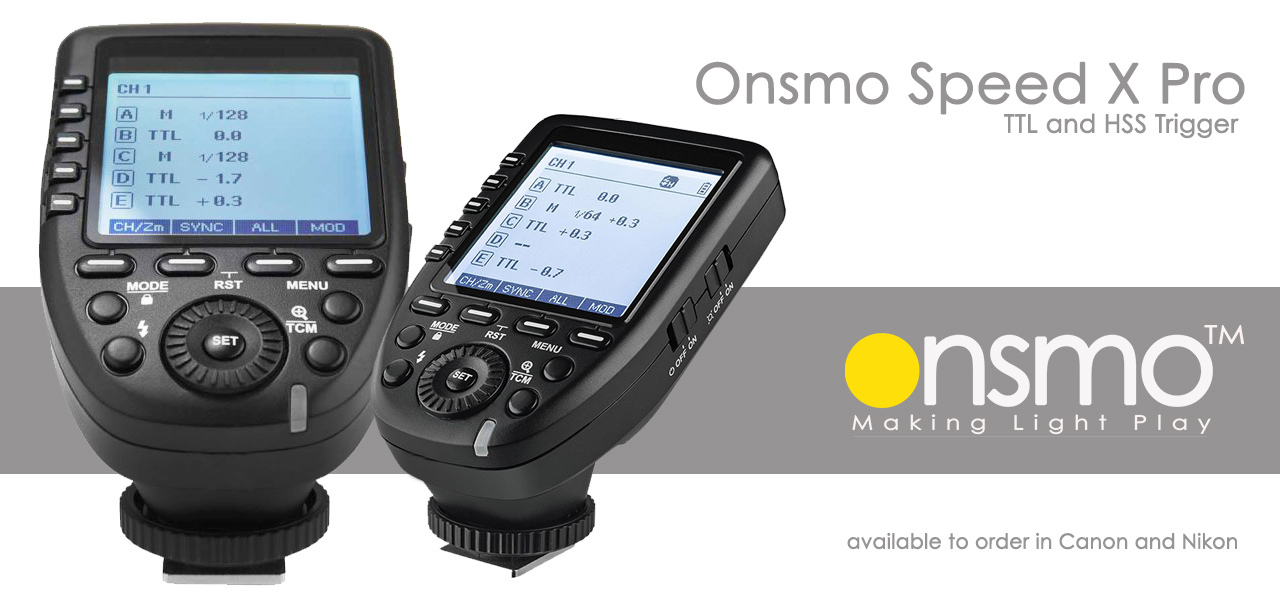 Onsmo Speed X-Pro wireless flash trigger is the dedicated light master for the Onsmo X Series (as well as Godox) of Flash. The absolute command center for Canon EOS cameras to control Onsmo Speed X wireless system devices with a brilliant backlit LCD display on a sleek hotshoe footprint. The on-camera transmitter gives photographers power to direct the entire Onsmo Outdoor X series Strobe and X series speedlights. Boasting sparkling innovations that make the art of photography easier than ever at the touch of a button, with advantages like TCM - TTL fusion to Manual settings, selective transmission of values to conserve energy, extended multi-Group triggering, exceptionally stable signal broadcast, and direct Group access. TCM overcomes the exposure fluctuations that may occur in TTL Mode shooting by saving the successful exposure value to Manual setting for repeat capture accuracy. Even the remote flash coverage of Zoom speedlights can be tweaked right from the Onsmo Speed X-Pro. Now, Canon photographers can enjoy unparalleled flexibility and control over their multiflash strobist setups, right from their DSLR. More than all this, the Speed X-Pro C provides Second Curtain Sync, HSS, high speed synchronization, and remote modeling light status. It can even sync with Canon original speedlites under the control of a Onsmo X Series Receiver. The Onsmo Speed X-Pro C is the natural choice for heading up the Family.


- Onsmo speed X TTL wireless flash trigger applies to Canon.

- Featuring multi-channel triggering, stable signal transmission, and sensitive reaction, it can be used to trigger camera shutter, studio flash and camera flash. Onsmo speed X trigger is compatible with market-available cameras which support e-TTL

- Support all cameras that have PC sync socket.

- Able to use with Onsmo Speedlight, Onsmo X1 and X2 Outdoor Strobes and also

GODOX X Series

- High speed sync capability with traditional indoor studio light if use together with the Onsmo Speed X Receiver




Onsmo Speed X-Pro Canon Features

- The absolute Onsmo X series remote transmitter light master for Canon EOS cameras
- Handles multiple X Series receiver flashes in up to 16 Groups
- On command conversion of TTL settings to Manual values (TCM) guarantees repeated exposure accuracy
- Full graphic display of 5 Groups simultaneously
- Manual flash 1/1 - 1/256 power
- HSS (High Speed Sync) up to 1/8000 (depending on camera)
- Modeling light status control
- Stroboscopic Multi flash
- Selective transmission of data conserves energy and battery life
- Magnification Function displays details of each Group settings
- Global adjustments to exposure values for multi-group in M mode
- Adjusts the flash Zoom coverage for each Group
- Flash exposure compensation
- FE lock
- 11 Customizable Functions





Compatible Camera

Canon EOS cameras (E-TTL II autoflash) Support for the cameras that have PC sync socket.

TTL Autoflash

Canon E-TTL II

Manual flash mode

Yes

Multi (Stroboscopic) flash mode

Yes

TCM function

Transforms the TTL shooting value into the output value in M mode

HSS (High-speed sync)

Yes

ZOOM setting

Adjust the ZOOM coverage value from the transmitter

Second-curtain sync

Yes

Flash exposure compensation

Yes, ±3 stops in 1/3 stop increments

Remote system

R2 2.4GHz Wireless

Modulation Mode

MSK

Power Supply

2 AA Batteries

Wireless Signal Range

>328 feet / >100 Meters

Channels

32

Custom Functions

11

Groups

5 - TTL/M/Multi / 16 Manual Only

Triggering Modes

Hot Shoe
Sync Cord
Test Button

Sync Connectors

Hotshoe
2.5mm Sync Port - Input & Output

Dimensions

3.5x2.3x2.0"/ 90x58x50mm

Weight with batteries

2.8oz / 80g

Auto Focus Assist

Yes

Modeling Lamp Control

Control the modeling lamp by the flash trigger

Beeper

Control the sound of the flash trigger

Firmware upgrade

Upgrade through the Type-C USB port

Memory function

Settings will be stored 2 seconds after last operation and recover after a restart

Wireless ID

01-99

Display

Large LCD panel with customizable backlight
PACKAGE CONTENT
1 x Onsmo Speed X-PRO trigger for Canon
Use spaces to separate tags. Use single quotes (') for phrases.